Photo: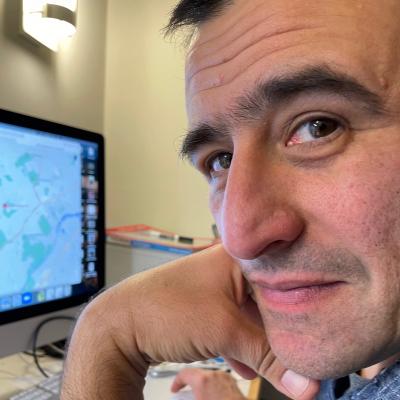 Contact info
Office:
Geog-Geol Bldg, 210 Field Street, Athens, Georgia 30602, Room 104
Research Interests:
Legal geography; political and social theory; corporate power; sovereignty
I study the role of corporations and other forms of "private power" in constituting modern forms of political authority and government. The questions that interest me concern how and why corporations came to exercise such control over daily life, the shape and structure of communities, and the spatial and territorial organization of the world.
To answer these questions I use historical and archival methods, with a particular attention to legal sources and arguments. My past research examined the historical development of corporations in Western legal systems, the status of corporations across legal jurisdictions, the ways corporations became such an important institutional form for capitalist economies, and the complex relations between corporations and political sovereignty.
Currently, I'm studying the long history of concession agreements, which are special types of contracts in which public authorities grant private juridical entities legal rights to carry out public or quasi-public functions. Today, concessions play an important role in extractive industries such as oil, agriculture, and mining. They also have a much longer history connected with a variety of colonial and imperial projects. I find concessions fascinating because they raise fundamental questions about the relationship between private power and democratic politics.
Education

Education:

Ph.D. American Studies (2006), University of Minnesota
Course Instruction

Courses Regularly Taught:
Research

Selected Publications:

Books

 

 

 

 

 

 

Barkan, Joshua. 2013. Corporate Sovereignty: Law and Government under Capitalism. Minneapolis, MN: University of Minnesota Press.

 
Articles and Chapters

Barkan, Joshua. 2018. "Corporate Power and Neoliberalism," in SAGE Handbook of Neoliberalism, Damien Cahill, Melinda Cooper, and Martijn Konings, eds. London: SAGE., pp. 446-456.

Barkan, Joshua and Laura Pulido. 2017. Justice: An Epistolary Exchange, Annals of the Association of American Geographers, 107(1): 33-40.

Barkan, Joshua. 2015. "Sovereignty," in Wiley-Blackwell Companion to Political Geography, John Agnew, Virginie Mamadouh, Anna Secor and Joanne Sharp, eds. Malden, MA: Wiley-Blackwell, pp. 48-60.

Barkan, Joshua. 2012. Roberto Esposito's Political Biology and Corporate Forms of Life, Law, Culture, and the Humanities, 12(1): 84–101

Barkan, Joshua. 2012. "Corporations as Disciplinary Institutions," in Wiley-Blackwell Companion to Economic Geography, T. Barnes, J. Peck, and E. Sheppard, eds. Malden, MA: Wiley-Blackwell, pp. 472–485.

Barkan, Joshua. 2011. Law and the Geographic Analysis of Globalization, Progress in Human Geography, 35(5): 589–607

Barkan, Joshua. 2010. Liberal Government and the Corporate Person, Journal of Cultural Economy, 3(1): 53–68 

Barkan, Joshua. 2009. Use Beyond Value: Giorgio Agamben and a Critique of Capitalism, Rethinking Marxism, 21(2): 243–259.

 
Book reviews and other writing

Barkan, Joshua. 2016. "Commentary on Contesting the Arctic: Politics and Imaginaries in the Circumpolar North" AAG Review of Books, 4(3): 174-176.

Barkan, Joshua. 2016. Review of Private Governance by Edward Peter Stringham. Enterprise and Society. 17(3): 704-707.

Barkan, Joshua. 2013. "Review Essay: Addressing the People," Environment and Planning D: Society and Space, 31(4): 745-752.

Barkan, Joshua. 2012. "Liberalism, Sovereignty, and Politics: A Response to Joel Wainwright and Geoff Mann's 'Climate Leviathan'," Antipodefoudation.org.