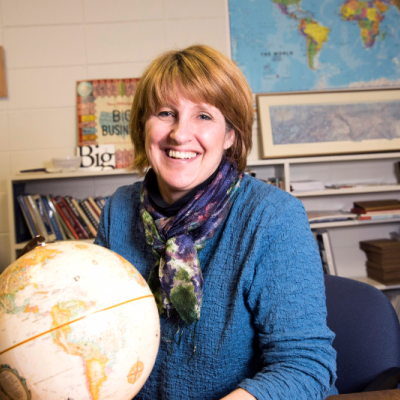 Professor and Department Head
Contact info
Office:
Geog-Geol Bldg, 210 Field Street, Athens, Georgia 30602, 214
Research Interests:
Environmental justice, politics of scale, gender and social movements
Education

Education:

Ph.D. (2000), University of Minnesota Geography
Master of Arts (1996), University of Minnesota
Bachelor of Fine Arts (1989), Portland School of Art
Course Instruction

Courses Regularly Taught:
Research

Selected Publications:

Guest Edited Journal Volumes

Kurtz H. and Hankins K. (Guest Editors ), 2005. Geographies of Citizenship Space and Polity 9 (1).

 

Articles

Kurtz, H., 2009. Acknowledging the Racial State: An agenda for environmental justice research. Antipode 41(4):684-705.

Kurtz H. and Botelho D. , 2008. The introduction of genetically modified foods in the United States and the United Kingdom: A news analysis. The Social Science Journal

Kurtz, H. , 2007. Gender and environmental justice in Louisiana: Blurring the boundaries of public and private spheres.Gender, Place and Culture 14(4).

Kurtz H., 2005. Reflections on an iconography of environmental justice activism Area 37(1): 79-88.

Kurtz Hilda, 2005. Alternative visions for citizenship practice in an environmental justice dispute. Space and Polity 9(1):77-91.

Kurtz H., 2004. Reflecting on role play in geographic education: The case of the banana war. Journal of Geography 103(1): 16-27.

Smith C. and Kurtz H., 2003. Community gardens and politics of scale in New York City. Geographical Review. 93(2): 193-212.

Kurtz, Hilda, 2003. Scale frames and counter scale frames: Constructing the social grievance of environmental injustice.Political Geography 22: 887-916.

Kurtz Hilda, 2001. Differentiating multiple meanings of garden and community. Urban Geography 2(7): 656-670.

 

Book Chapters

Kurtz, Hilda, 2002. "The politics of environmental justice as a politics of scale. In A. Herod and M. Wright, eds., Geographies of Power: Placing Scale. Oxford: Blackwell, pp. 249-273.