Photo: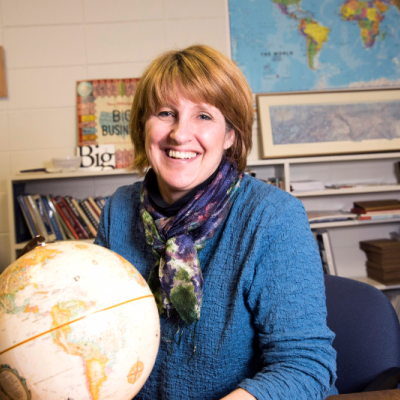 Professor and Department Head
Contact info
Office:
Geog-Geol Bldg, 210 Field Street, Athens, Georgia 30602, 214
Research Interests:
Race and racialization; gentrification; environmental justice; alternative food politics 
My research has centered on the geographic dimensions of political practice, with attention to how groups of activists draw on a geographical imagination to strategize for social change. I am interested in how people understand and draw on geographical relationships to argue for inclusion in a diverse and inclusive polity, in formal political and legal arenas, as well as in the arena of public opinion. During my early career, I focused empirically on environmental justice activism, contributing to constructionist scholarship on politics of scale, gendered political contestation, racialization, and norms of citizenship to investigate how EJ activists defend their spaces of life and livelihood while asserting a place of belonging in a broader polity and economy. My research in this vein has been published in leading peer–reviewed journals in the field, including Political Geography, Space and Polity, Gender, Place and Culture, Area, and Antipode.  
My post-tenure research focuses empirically on alternative food activism and food networks. I investigate how critics of the industrial food system – such as drinkers and producers of raw milk, as well as members of traditional and hyper–localized food networks - contend with food and agricultural regulations that criminalize their practices or price them out of their carefully cultivated food systems and networks. The broad themes parallel those that drew me to EJ research, in that I am still investigating how marginalized social actors defend their spaces and norms of life and livelihood while asserting a place of belonging in a broader polity and economy.  My work in this vein has been published in the Annals of the Association of American Geographers, Geoforum, Geography Compass. 
My ongoing interest in understanding how members of marginalized groups fight for inclusion in a diverse polity draws me to focus more specifically on racialization as a key axis of exclusion and marginalization in contemporary U.S. society.  My future work will return to my roots in urban geography, and focus on racialized dynamics of gentrification.  
Education

Education:

Ph.D. (2000), University of Minnesota Geography
Master of Arts (1996), University of Minnesota
Bachelor of Fine Arts (1989), Portland School of Art
Of Note

Of note:

2021 Susan Hardwick Excellence in Mentoring Award

The AAG bestows an annual award recognizing an individual geographer, group, or department, who demonstrates extraordinary leadership in building supportive academic and professional environments and in guiding the academic or professional growth of their students and junior colleagues. The late Susan Hardwick was the inaugural Excellence in Mentoring awardee. The Award was renamed in her honor and memory, soon after her passing.

Dr. Hilda Kurtz's mentorship strategies demonstrate variety, replicability, novelty, inclusivity, and community creation both within and beyond geography.

Her students benefit from her hands-on facilitation of quality research papers and proposals, with a high track record of funding success. Through journal editorship, she mentored diverse early career scholars with regard to academic publishing. Dr. Kurtz is co-Founder of the Franklin College Diversity and Inclusion Graduate Fellows Program, which establishes a local community of engagement around social justice. Multiple individuals commented on her success in mentoring focused on work-life balance through both formal and informal channels.

Finally, Kurtz developed a quasi-formal professional development workshop series in 2015, emphasizing job market preparation and tangible skills for success in academe. The workshops have since been integrated formally into the University of Georgia Geography Department's required first year graduate student seminar.

For all these reasons, the AAG is proud and pleased to recognize Hilda Kurtz as the recipient of the 2021 AAG Susan Hardwick Excellence in Mentoring Award.

 
Course Instruction

Courses Regularly Taught:
Research

Selected Publications:

Kurtz H., Dittmer J., Trauger, A. & S. Blue. 2020. Organic certification as assemblage: The case of Cuban honey. Transactions of the Institute of British Geographers. doi.org/10.1111/tran.12419.

Kurtz, H., Borron, A., Shannon, J. & A. Weaver. 2019. Community food assistance, informal social networks, and the labor of care. Agriculture and Human Values. 36:3, 495-505. doi.org: 10.1007/s10460-019-09943-0.

Kurtz, H. 2019. Public intellectualism as assemblage. Professional Geographer 71(1): 179-183. doi.org: 10.1080/00330124.2018.1453187.

Steacy C., Williams B., Petterson C. & H. Kurtz. 2016. Placing the "analyst" in discourse analysis: iteration, emergence and dialogicality as situated process. Professional Geographer 67(4): 166-173. doi.org/10.1080/00330124.2015.1065550.

Kurtz H. 2015. Biopoder, alimento y espacio. Biopolitica y Ciencias Sociales. 

Kurtz, H. 2015. Scaling Food Sovereignty: Biopolitics and the struggle for local control of farm food in rural Maine. Annals of the Association of American Geographers 105(4): 859-873. doi.org/10.1080/00045608.2015.1022127.

Kurtz, H. 2015. Framing Multiple Food Sovereignties: Comparing the Nyeleni Declaration and the Local Food and Self–Governance Ordinance in Maine. In A. Trauger (Ed.) Discourse, Politics and Practice of Food Sovereignty (pp. 163-175). London: Routledge.

Cope, M. & H. Kurtz. 2015. Coding and analysis of qualitative data. In N. Clifford, S. French, M. Cope and T. Gillespie (Eds.), Key Methods in Geography, 3rd edition. Thousand Oaks, CA: Sage Publications.

Sadler, J. & H. Kurtz. 2014. The politics of scale in a wind farm controversy in Ashe County, North Carolina. The Southeastern Geographer, 54(3): 233–248. https://www.jstor.org/stable/26233694.

Kurtz, H., A. Trauger A, & C. Passidomo. 2013. The contested terrain of biological citizenship in the seizure of raw milk in Athens, Georgia. Geoforum, 48: 136­–144. doi.org/10.1016/j.geoforum.2013.04.006.

Kurtz, H. 2012. Trayvon Martin and the dystopian turn in U.S. self–defense doctrine. Antipode, 45(2): 248–251. doi.org/10.1111/j.1467-8330.2012.01057.x.

Kurtz, H. 2013. Linking food deserts and racial segregation: Challenges and limitations. In R. Slocum and A. Saldanha (Eds.), Geographies of Race and Food: Fields, Bodies, Markets (pp. 247-260). London: Ashgate Press.

Kurtz, H. 2009. Acknowledging the Racial State: An agenda for environmental justice research.  Antipode 41(4): 684–705. doi.org/10.1111/j.1467-8330.2009.00694.x.