Image: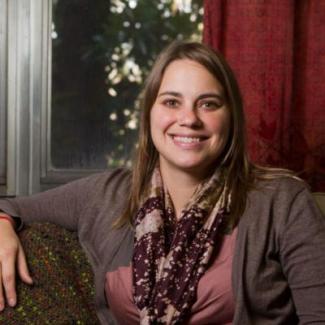 Amy Trauger, author and professor of geography, was named last year as the Canada Research Chair in Food Studies at the University of Guelph, administered through the Fulbright Canada program. With this position, Trauger set forth to research the impact of the Covid-19 pandemic on food insecure populations, particularly rural and indigenous people, and how indigenous groups with food sovereignty goals have responded to the pandemic. "If I had to look back on my two decades of research and sum it up in a couple sentences," Trauger reflects, "I'd say that I'm interested generally in the human-environment connection as it relates to food and agriculture." Trauger is particularly interested in what happens when people make a deeper commitment to protecting and conserving natural systems through food production, for good and bad. "We often get nice things from this, but it isn't always a good thing. When people prioritize the environment or nature within a capitalist system, they often overlook how it negatively impacts people."
Trauger, as well as other researchers in the field of human-environment relationships and food sovereignty, noticed that food shortages, due to disruptions in national-scale supply chains, are an ongoing characteristic of the pandemic across North America. Shortages negatively impact the already food insecure, and in Canada, more than a quarter of indigenous households are food insecure, compared to 12% of households across Canada. Trauger's prior work with indigenous groups suggests that when they have autonomy to manage their own resources, they develop resilient food sovereign systems. 
With the question in mind on how the pandemic had affected indigenous food sovereignty systems, Trauger trekked to Canada to get answers. "Given the Covid lockdown conditions we were under for more than a month in Toronto and a historically bad winter with record-breaking snowfall, I really struggled to get any traction with this particular research project in the four months that I had." In addition, First Nations and Indigenous tribes in Canada locked down their own reserves to protect themselves from Covid-19, which made field work even more difficult. Fortunately, Trauger's colleague, Associate Professor Charles Levkoe, had done similar work earlier in the pandemic and, along with colleagues at the Sustainable Food Systems Lab at Lakehead University in Ontario, published a paper on this very topic in 2021. They found that the sudden changes in food supply changes definitely disproportionately impacted Indigenous populations who already live in rural food deserts and who also experience higher rates of poverty and food insecurity than the general population. Indigenous people also have traditional foodways, some of which are still intact after centuries of settler colonialism and some of those are supported by food sovereignty projects.
"After the initial crisis passed somewhat," Trauger states, "the nonprofits and tribal groups dedicated to food projects on reserves used the opportunity to secure funding to expand infrastructure and support for traditional foodways, such as hunting, fishing or ricing, which provide people with the opportunity to be self-sufficient and weather the shocks of crises such as the pandemic." That said, less than 1 percent of land in Canada is stewarded by Indigenous people (similar to the United States). "Traditional foodways and food self-sufficiency mean absolutely nothing without embodied sovereignty and meaningful relationships to land." 
To learn more about Dr. Amy Trauger's work, please visit her directory page on the Geography Department's website and her personal website. You can also follow her work on Facebook, Instagram, and Google Scholar. To learn more about Trauger's work on returning political and economic control to the Indigenous people who lived here prior to colonization (in UGA's case, Mvskoke, S'atsoyaha and ᏣᎳᎫᏪᏘᏱ Tsalaguwetiyi), visit LAND BACK! ​​​​​