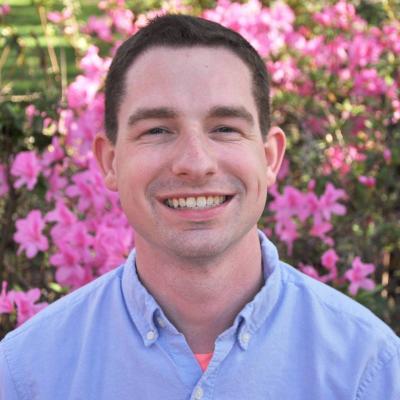 Contact info
Office:
Geography-Geology Building, Climatology Lab
Research Interests:
My broad research interests include risk communication, societal impacts, injury prevention, and weather communication. My overall goal is to continue bridging the gap between the social sciences and atmospheric science fields in order to more effectively communicate weather-related risks to the general public.
Castle Williams is currently a Ph.D. Candidate in the Department of Geography at the University of Georgia. His research interests lie at the intersection of risk communication, societal impacts, and meteorology. Specifically, his research examines how meteorologists communicate weather information and hazards to members of the public. His dissertation explores the role of visual design in keeping a weather-related message 'consistent.' In other words, his dissertation asks: if all weather sources use the same forecast, but entirely different visual designs, does this change the consistency of the message? To explore this provocative question, he proposes the first empirical examination of 'message consistency' in the weather enterprise and seeks to evaluate the importance of having a 'consistent' visual design when communicating weather-related risk, uncertainty, and probabilistic information. This research project is being funded by NOAA's Office of Atmospheric Research (OAR) and the Office of Weather and Air Quality (OWAQ) through their Joint Technology Transfer Initiative (JTTI).
In 2015, Castle was the recipient of a National Science Foundation Graduate Research Fellowship. This three year research fellowship was awarded to him to explore the communication challenges that accompany conveying the risks of children being forgotten in hot cars to parents and caregivers. Not only that, but during his tenure, he also participated in the National Science Foundation Graduate Research Internship Program (GRIP) where he worked alongside social and physical scientists at NWS Headquarters on the Hazard Simplification Project. This unique opportunity provided experience and insight on navigating the researcher/practitioner partnership. This partnership, while challenging to balance at times, was extremely influential on Castle's research interests and continues to drive his passion for tackling operational problems in the weather community.
Castle is a member of the AMS Committee on Effective Communication of Weather and Climate Information and the NWA Societal Impacts Committee. In addition to these service opportunities, Castle also enjoys taking his love for science communication in a more creative direction. He is the co-host and producer of a weather and society podcast called WeatherHype. Through interviewing guests and discussing hot topics, this podcast examines the latest weather- and climate-related events and how they connect to people every day. He believes this medium for science communication serves as an informal and fun introduction to social and behavioral sciences in meteorology.
Currently, Castle plans to complete his Ph.D. in Spring 2020. He also holds an M.S. in geography and B.S. degrees in atmospheric sciences, geography, and psychology from the University of Georgia.
Education

Education:

Ph.D. in Geography (Expected May 2020)

Advisor: Dr. Andrew Grundstein
Dissertation: Should severe weather messages wear uniforms? The effects of visual and spatial inconsistencies on information seeking behaviors. 

Masters of Science in Geography, University of Georgia, 2016 

Advisor: Dr. Andrew Grundstein
Dissertation: Children forgotten in hot cars: A hybrid mental models approach for improving public health messaging. 

Bachelor of Science in Geography, University of Georgia, 2014

Bachelor of Science in Psychology, University of Georgia, 2014

Certificate in Atmospheric Sciences, University of Georgia, 2014