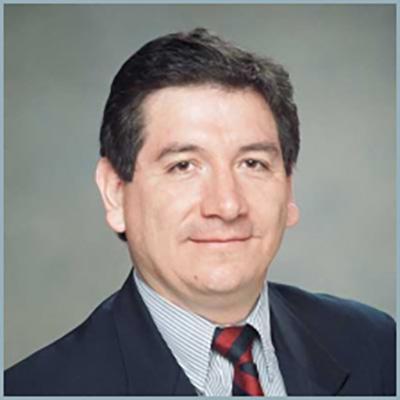 Professor
Undergraduate Coordinator
Contact info
Office:
Geog-Geol Bldg, 210 Field Street, Athens, Georgia 30602, 110
Research Interests:
Neotropical mountains, biogeography, political ecology and cultural landscapes
Education

Education:

BS (1988), Catholic University of Ecuador, Quito
MS (1991), The Ohio State University, Columbus
Ph.D. (1996), The University of Georgia, Athens
Of Note

Of note:

Inaugural keynote speaker at the IV Latin American Congress of Ecology
Keynote speaker at the I International Congress of Biodiversity Conservation of the Andes and the Amazon
Chaired the workshop on Mountain Protected Areas for the first Latin American Congress of National Parks.
In 1999, the Honor Society for International Scholars Phi Beta Delta, Tau Chapter, recognized him as the "Outstanding Faculty of the Year".
In 2001, the Mountain Geography Specialty Group (MGSG) of the Association of American Geographers (AAG) gave him the "Outstanding Recent Accomplishment Award" for his work "in fostering sustainable development in mountain environments".
In 2007, the UGA-Student Government Association recognized him for excellence in teaching and valuable contributions to students.
Executive Director of the Ecuadorian Museum of Natural Sciences in Quito and chief ecologist consultant at AECOTAL in Ecuador.
In the United States, he was co-Director of the Center for Latin American and Caribbean Studies until 2002, when he became Director if the Office of International Education of the University of Georgia until 2005.
In 2004, Dr. Sarmiento participated in the II Cultural Encounter of the Americas to discuss Identity and Cultural Landscapes.
He was selected as juror for the BBVA Foundation for the prestigious International Prize on Actions on Biodiversity Conservation.
The International Center for Mediterranean Studies in Zaragoza invited him as juror for the graduating class of 2005 of Integrated Environmental Planning and rural development.
In addition, he received a Fulbright Scholar Award for the International Education Administrator Program to Japan.
Course Instruction

Courses Regularly Taught:
Research

Selected Publications:

1991. Diccionario Ecológico Energético Ecuatoriano.Reprinted (from 1986) by the Conservation Trust of Puerto Rico, San Juan.
1992. "Research in Topandean Protected Areas of Ecuadorian Landscapes." The George Wright Forum, 9(3-4):148-160.
1994. "Human Impacts on the Cloud Forests of the Upper Guayllabamba River, Ecuador." Ecological Studies, 110:284-295.
1995. "The Birthplace of Ecology." Bulletin of the Ecological Society of America, 76(2):104-105
1995. "Restoration of Equatorial Andes: The Challenge for Conservation of Tropandean Landscapes." Biodiversity and Conservation of Neotropical Montane Forests. 637-651. Churchill, S., H. Balslev, E. Forero and J. Luteyn, editors. The New York Botanical Garden, Bronx.
1997. "Arrested Succession in Pastures Hinders Regeneration of Tropandean Forests and Shreds Mountain Landscapes." Environmental Conservation, 24(1):14-23.
1997. "Landscape Regeneration by Seeds and Successional Pathways to Restore Fragile Tropandean Slopelands." Mountain Research and Development, 17(3):239-252.
1997. "The Quijos River Valley: a Protected Landscape as Best Management Practice for Conservation and Development in Tropandean Ecuador". The George Wright Forum, 14(3):59-66.
1998. "Seed Inputs to Microsite Patch Recovery on Two Tropandean Landslides in Ecuador." (with R. Myster). Restoration Ecology, 6(1):35-43.
1998. Ecología: El Puente Entre Ciencia y Sociedad. (with E. P. Odum). Editorial McGraw Hill, Interamericana de Mexico, Mexico D. F.
1998. "Restauración de los Hábitats Criticos del Paisaje Tropandino Ecuatoriano". Geografía Aplicada y Desarrrollo, 37:63-86.
1999. "To Mt. Chimborazo: in the steps of Alexander Von Humboldt". Mountain Research & Development, 19(2):77-78.
1999. "Los desafíos de la Ecología en América Latina en el próximo milenio". Persona y Sociedad, 13 (1): 14-26.
1999. Desarrollo Sustentable de Montañas: Entendiendo las interfaces ecológicas para la gestión de paisajes culturales en los Andes. (with J. Hidalgo, editors). Corporación Editora Nacional, Quito, Ecuador.
2000. Restoration of Andean Forests for Conservation and Development. In: M. Price & N. Butt (Editors). Forests in Sustainable Mountain Development: a State-of-the-knowledge Report for 2000. IUFRO-FAO. Oxford. CAB Publishing Co.
2000. "Breaking Mountain Paradigms: Ecological Effects on Human Impacts in Man-aged Tropandean Landscapes". Ambio 29(7):423-431.
2001. Diccionario Latinoamericano:Ecología de Paisajes,Conservación y Desarrollo Sustentable. Editorial Abya Yala, Quito, Ecuador.
2001. "Les enjeux de la recherche sur les montagnes en matière de terminologie et de connaissances: application á l'espace andin". Revue de Géographie Alpine 89(2):73-77
2001. "Mountain regions —Sustained livelihood for an increasing population?". Schwepunkt: Berge. Entwicklung lándlicher raum 6:16-18. S
2001. Ecuador. pp. 497-548. In: Kappelle, M. & A. Brown (editores). Bosques Nublados del Neotrópico. Editorial INBio, Costa Rica.
2001. Biodiversidad en los paisajes culturales de la ecorregión tropandina. En: Primack, R., R. Rozzi, P Feissinger, R. Dirzo & F. Massardo (eds). pp 108-109. Fundamentos de Conservación Biológica: Perspectivas Latinoamericanas. Fondo de Cultura Económica, México.
2001. Worshiping the sacred in nature and culture in protected landscapes of the Andes. Pp. 63-67. In: UNESCO thematic expert meeting on Asia-Pacific Sacred Mountains. World Cultural Center, Agency for Cultural Affairs of Japan, Wakayama Prefectural Government. Wakayama City.
2002. Ecología de Paisajes. Teoría y Aplicación. (with Naveh, Z.) A. Lieberman, C. Ghersa. 2002. Edición de estudientes. Editorial Universitaria de Buenos Aires, EUDEBA. Argentina. 571 pp.
2002. "Anthropogenic landscape change in highland Ecuador". The Geographical Review 92(2):213-234.
2002. "Andean Cloud Forest Tree-Lines: Naturalness, Agriculture and the Human Dimension". Mountain Research and Development 22(3):278-287 (with L. Frolich)
2002. "Impulsores de cambio del paisaje: dinámica de las líneas de árboles en la montología neotropical". Ecotrópicos, 15 (2):129-146.
2002. "Gerardo Budowski: A beacon to conservation of tropical mountains". Mountain Research and Development 22(2): 197-198.
2003. Las Montañas del Mundo: Una Prioridad Global con Perspectives Latinoamericanas. (editor). Editorial Abya-Yala, Quito. 669pp.
2003. "Paisajes culturales en Centroamérica: la mejor práctica de manejo para conservación es la categoría V". In: UNESCO thematic expert meeting on Central American Cultural Protected Landscapes. San José, Costa Rica.
2003. "Protected landscapes in the Andean concept: worshiping the sacred in nature and culture". pp 239-249. In: Harmon, D. & . A. Putney. (editors). The full value of parks: from economics to the intangible. Smithsonian Institution Press.
2003. "A protected landscape candidate in the Tropical Andes of Ecuador". Parks 13 (2): 42-51. (with Chaurette E. and J. Rodriguez)
2004. "Selling the public on sustainable watershed conservation". Bulletin of Latin American Reserach, 23(3): 322-337 (with J. Pugh).
2004. GIScience and tropical mountains: a challenge for geoecological research incorporating the third dimension. (with Usery, L. & E. Box). In: Bishop, M. & J. Shroder (editors). Geopgraphic Informtion Science and Mountain Geomorphology. Praxis Scientific Publishing-Springer Verlag.
2005. Cultural Landscapes of the Andes: Indigenous and Colono Culture, Traditional Knowledge and Ethno-Ecological Heritage. In: Brown, J. & N. Mitchell (eds). Cultural Landscape Approach for Conservation. IUCN/Countryside Agency. United Kingdom. (with Rodríguez, G. and A. Argumedo).
2005.  Ethnoecology of the tropical Andes: Avian indicators of landscape change in highland Ecuador.  Pirineos 160: 87-119.
2006.  Andean Treeline dynamics and the human dimension of landscape change in the Andes.  Pp 233-234.  In:  Price, M. (editor).  Global Change in Mountain Regions.  Sapiens Publishing: Wiltshire, UK.  398pp.
2008.  Agrobiodiversity in the farmscapes of the Quijos River in the Tropical Andes, Ecuador.  Pp 22-30.  In:   Amend, T, J. Brown, A. Kothari, A. Phillips and S. Stolton. (Editors). Protected Landscapes and Agrobiodiversity Values. Volume 1 in the series, Protected Landscapes and Seascapes.  IUCN & GTZ.  Kaspareg Verlag, Heidelberg.
2008.  Changing the role of rural women in Punjab province, Pakistan.  Geographische Rundschau 4(2): 4-9. (With Aqsa Muhmad).
2008. Sacred Imbakucha: Intangibles in the Conservation of Cultural Landscapes in Ecuador. In: Josep M. Mallarach (Editor). Cultural and Espiritual Values of Protected Landscapes. Volume 2 in the series, Protected Landscapes and Seascapes.  IUCN & GTZ.  Kaspareg Verlag, Heidelberg. (With César Cotacachi and Lee Ellen Carter).

Forthcoming Publications

Sarmiento, F. Avian indicators of landscape change: the case of Vanellus resplendens in Andean ethnoecology. Geographical Review
Sarmiento, F. Geomorphology of natural and human induced disasters in Ecuador. In: Latrubesse, E. (Ed). Natural Hazards and Human-Exacerbated Disasters in Latin America.Series Developments in Earth Surface Processes. Elsevier.
Sarmiento, F.O. (editor). Human Dimension and Farmscape Transformation in the Andes: Mountain people facing global environmental change.  (Special issue of Pirineos, the Journal of Mountain Ecology, with support from the Mountain Research Initiative MRI).
Donoso, M. & F. Sarmiento.  The Paute Watershed: Soil conservation in a development context of biodiversity-driven conservation policy.  Journal of Mountain Science.
Carter, L.E. & F. Sarmiento. Otavaleños and Cotacacheños: Local Perceptions of Sacred Sites for Farmscape Conservation in Highland Ecuador.  Journal of Human Ecology
Paisajes Culturales e Identidad. Memorias del Segundo Encuentro Cultural de las Américas. Ciudad Bolívar, Venezuela.
Giraldo, M. & F. Sarmiento.  Educative Land Use Planning for Tropical Agriculture: Analyzing remotely sensed data in the humid tropics of Costa Rica.  Journal of Land Use Science.