Image: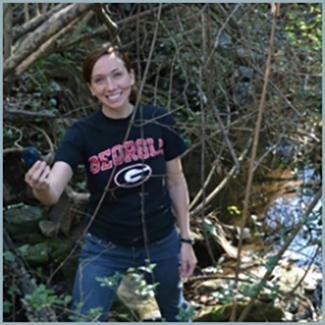 Advances in GIS and remote sensing technologies allow us to recognize the cumulative impacts of small reservoirs throughout the Apalachicola-Chattahoochee-Flint River Basin of the Southeastern United States.
The Piedmont ecoregion of the Southeastern U.S. has very few natural lakes or ponds and is instead characterized by incredibly high concentrations of artificial reservoirs. Pond owners, scientists, managers, and policymakers have little information regarding the impacts of these numerous constructions. This graduate dissertation research utilizes numerous geographic techniques to examine the role of small reservoirs on the landscape of Northern Georgia. 
Remote Sensing and Geographic Information Systems techniques are used to quantify and explore the emergence of small reservoir development over time. Water quality sampling and analysis is used to investigate the impact of small reservoirs on stream health. Finally, water modeling is used to examine the impact of small ponds on evaporation patterns. 
In addition to scientific value, this research will allow for improved water allocation strategies. In the face of drought, population growth, and a changing climate, understanding the cumulative impacts of small reservoirs is vitally important and essential for water management planning. This research is funded by the National Science Foundation through a Doctoral Dissertation Research Improvement Grant and is supported by the U.S. Geological Survey as part of the Student Temporary Employment Program.