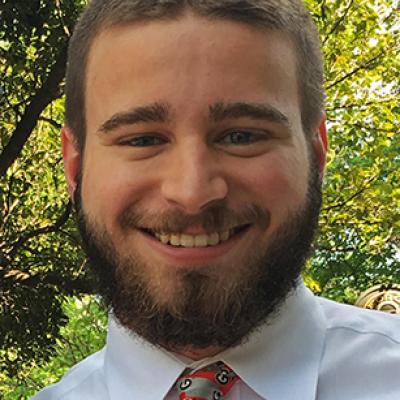 Second Year M.S. Student
Teaching Assistant for GEOG 1112L
Contact info
Office:
Geology-Geography Building, Room 215
Research Interests:
Thunderstorm-related allergy epidemics, Climate and Health, Mesoscale Meteorology, Synoptic Meteorology, Risk Communication, Public Health, Modeling, GIS, Remote Sensing, Dynamic Meteorology, Atmospheric Thermodynamics
Ian graduated from the University of Georgia on May 5, 2017, with Bachelor of Science degrees in Atmospheric Sciences and Geography. Ian has always had a great interest in the weather, starting from the ripe old age of 6. Ian has returned to UGA, where he's working on his Master of Science in Geography. His graduate research covers thunderstorm-related asthma epidemics, which is under the direction of Dr. Andrew Grundstein. Ian is also the Graduate Representative of the UGA student chapter of the American Meteorological Society (UGAAMS). In addition to research, Ian also teaches sections of GEOG 1112L. Outside of his moments of being a Weather Geek, you'll probably find Ian wearing red and black, as he is arguably the biggest UGA fanatic you'll ever meet in your life, so much so that he spent all four years of his undergraduate career as a dedicated member of the UGA Spike Squad.
Education

Education:

M.S. Geography (expected May 2019)

B.S. Atmospheric Sciences, B.S. Geography, University of Georgia (2017)

 
Course Instruction

Courses Regularly Taught: