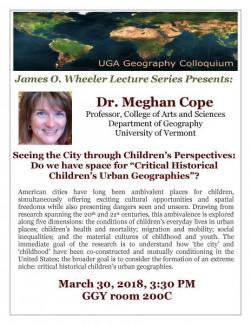 Geography-Geology Building Room 200C
Seeing the City through Children's Perspectives: Do we have space for "Critical Historical Children's Urban Geographies"?
American cities have long been ambivalent places for children, simultaneously offering exciting cultural opportunities and spatial freedoms while also presenting dangers seen and unseen. Drawing from research spanning the 20th and 21st centuries, this ambivalence is explored along five dimensions: the conditions of children's everyday lives in urban places; children's health and mortality; migration and mobility; social inequalities; and the material cultures of childhood and youth. The immediate goal of the research is to understand how 'the city' and 'childhood' have been co-constructed and mutually conditioning in the United States; the broader goal is to consider the formation of an extreme niche: critical historical children's urban geographies.